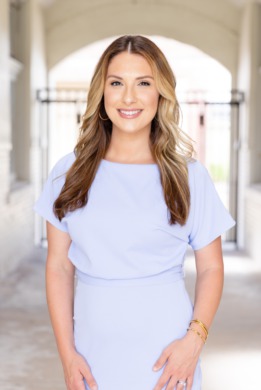 Alexis Peterson is a Realtor with McGeeScott Realty and has been a Realtor in Acadiana for the past 6 years. She was born and raised in the small town of Franklin, LA. She is a 2010 graduate of Hanson Memorial High School and a 2015 graduate of the University of Louisiana at Lafayette where she received a Bachelor's Degree in Speech Pathology & Audiology.
In 2016, Alexis married her high school sweetheart, Cody. They currently live in Franklin with their son Luke (4), daughter Caffery (1), and pup Adeline. Alexis is very family oriented and loves spending time with her husband and children.
In just her 6 years of being a Realtor, Alexis has assisted nearly 100 families with their Real Estate needs and has sold over $15,000,000 worth of Properties across St. Mary, Iberia, St. Martin, Vermillion, and Lafayette Parishes. She says she owes this success to her clients and team of Lenders, Insurance Agents, Title Attorneys, and Inspectors that she works closely with to ensure the transaction is as smooth as possible!
Alexis strives to make her clients feel like they're apart of her family. She takes a personalized approach to each client and transaction knowing that no two clients, or deals, are the same. She encourages her clients to ask her questions and to not be shy if they have any concerns during the transaction. Alexis wants to make sure that her clients feel comfortable with each step in the Buying/Selling process.
 She brings to the table knowledge, professionalism, and great communication + negotiating skills. She believes that "Small Town" service and being personable with all of her clients makes her a successful Realtor. If you or anyone you know is looking to buy, sell, or invest in real estate, Alexis will work hard to help you find your 'Home Sweet Home'!